Event Details
Join us for a special night with Pia Di Ciaula, CCE. Pia was chosen this year to become a Full Member for the CCE and we are so happy that she accepted our invitation. Pia is in town for TIFF and has graciously accepted our request to host a Q&A next week!
Pia has a lot of impressive credits to her name but her most recent credit is for her work on the award winning Netflix/Left Bank Pictures show The Crown. She is working with three-time Oscar nominee Stephen Daldry (The Reader, The Hours) and two-time Oscar nominee Peter Morgan (Frost/Nixon, The Queen). The Crown is a multi-Golden Globe and BAFTA winner.
This event is open to CCE members only - however a CCE member can bring 1 guest for $10
Pia Di Ciaula was born to Italian parents in Toronto where she began her film editing career. She received a Gemini Award Nomination for Best Editing on Choices of the Heart: The Margaret Sanger Story. She received two Genie Award Nominations for Best Editing for her first two feature films that were Canadian/UK co-productions, Intimate Relations starring Julie Walters, and Regeneration starring Jonathan Pryce. She then relocated to London and collaborated with Gillies MacKinnon on seven films including Hideous Kinky with Kate Winslet, Pure with Keira Knightley, and The Last of the Blonde Bombshells winning Judi Dench a Golden Globe and a BAFTA.
Di Ciaula's second collaboration with Keira Knightley was on Silk, written and directed by Francis Girard. Other features include Nora starring Ewan McGregor, Belle and The Journey Home.
Di Ciaula's prolific collaboration with director David Blair resulted in the multi-Emmy and BAFTA Award winning show The Street starring Timothy Spall and Tess of the D'Urbervilles starring Gemma Arterton and Eddie Redmayne.
Hugh Hudson (Chariots of Fire, Greystoke) and Di Ciaula collaborated on Altamira starring Antonio Banderas. Di Ciaula then edited with "the UK's greatest living autour" Terence Davies on A Quiet Passion starring Cynthia Nixon as Emily Dickinson along with Keith Carradine and Jennifer Ehle.
Di Ciaula's first collaboration with actor/writer/director Paddy Considine was Tyrannosaur which won approximately 40 awards world-wide including Sundance, Best Independent British Film and a BAFTA. Di Ciaula and Considine's wonderful collaboration continued on his sophomore film Journeyman which will be released later this year. Di Ciaula is presently editing The Crown for Netflix and Left Bank Pictures with three-time Oscar nominee Stephen Daldry (The Reader, The Hours) and two-time Oscar nominee Peter Morgan (Frost/Nixon, The Queen). The Crown is a multi-Golden Globe and BAFTA winner.
With a critical eye and a discerning ear, Triangle consistently meets the most exacting of creative and technical standards. From the moment your project enters our facility, our team guides it through final finishing, colour, mix, mastering, and broadcast deliverables. We'll handle any one, or all of the post processes for you whether that be a single room rental, offline/production space with shared storage, or full service post.
For productions looking for fully supported offline post with shared storage capabilities, talk to us about our flex space tied to project rate budgeting. Ramp up and down with the security of knowing your workflow is always fully supported.
For final post, Triangle offers six matched finishing suites running Avid Symphony and FCP, all optimized in size and functionality. This provides enormous flexibility to accommodate multiple projects and tight deadlines.
For colour grading, our colourists operate three platforms; Autodesk's Lustre, Baselight for Avid, and DaVinci Resolve. Unparalleled in the industry, the Lustre brings a depth of story-telling tools to your project through colour and light, allowing us to bring archive and recreations or even a simple interview to cinematic glory. Baselight and Resolve also bring documented strength to any project, giving us the freedom to push beyond a basic balance and truly enhance your show.
Continuing our focus on Broadcast, Triangle's audio suite is designed to provide the optimum home theatre environment for audio record, mixing and screening on Sony's beautiful new XBR 65 inch 4K monitor.
Then the final two steps in the process — mastering and deliverables. Always standing behind our work, we've championed a three step, signed off QC process before any media leaves the facility . Closed captioning, Descriptive Video, Audio in any configuration, Conversions, Tape or Digital mastering, Project Archive and LTO, we do it all. We're spec'd and scoped for the tight European EBU standard which means no matter where you deliver, your master will stand up to global standards.
And behind it all, stand our people. The team at Triangle are among the best in the industry with proven backgrounds in post. We work individually and collectively, fluidly sharing insights and knowledge with each other, our clients and friends as we guide your project through Triangle and then back to you.
We look forward to seeing you soon.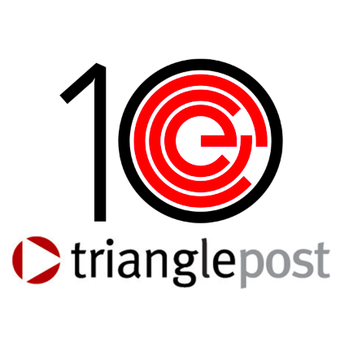 241 Spadina Ave, Toronto, ON M5T 2E2