Event Details
This event is sold out. To go on the waitlist please email Alison.
The Canadian Cinema Editors is proud to present EDITCON 2020, the third annual day-long conference on the art of picture editing, on Saturday February 1st, 2020 at the TIFF Bell Lightbox in Toronto.
This year, we are very excited to welcome master editor Susan Shipton for an in-depth discussion of her work. The day will also feature panel discussions on editing comedy, theatrical films, and unscripted programming, with some of Canada's top editors sharing a wealth of knowledge and experience. Admission will include a welcome breakfast, lunch, and a post-panel social and networking session, as well as raffles and giveaways from our sponsors. Earlybird tickets go on sale for CCE Members starting November 28, with general admission available for non-members and students on December 16.
MASTERCLASS: BEHIND THE CUT WITH SUSAN SHIPTON

Multi-award-winning editor Susan Shipton will share her vast knowledge and experience from a long career in film and network television. Susan has over 40 feature films to her credit. She has cut eight films with director Atom Egoyan (including Oscar-nominated The Sweet Hereafter), as well as many critically-acclaimed television series such as The Book of Negroes, and The Expanse.

PANEL TALK: TIMING IS (ALMOST) EVERYTHING

This panel will explore the mechanics of making us laugh--how do you take what's on the page and make it land? From sketch comedy to sitcoms, editors from Schitt's Creek, Letterkenny, Baroness Von Sketch Show (and more) will explore what makes cutting comedy unique and particularly challenging.

PANEL TALK: NO SCRIPT? NO PROBLEM!

Massive hours of footage, tight deadlines, and no script? No problem! Editors from hit shows including Big Brother, The Amazing Race, Yukon Gold, and In The Making share how they get to the finish line. Featuring clips from these and other top-rated and award-winning reality and factual programs, this discussion will break down the process of cutting unscripted programming, both creatively and technically.

PANEL TALK: THIS YEAR IN DRAMATIC FILM

There's no formula to a festival hit, but the three editors behind the recent critically-lauded feature films Freaks, Mouthpiece, and Genesis will share how they did it.. This panel discussion will focus on their process, their career trajectories, and what lies ahead.

Les Monteurs de Cinéma Canadiens (Canadian Cinema Editors) sont fiers de présenter EDITCON 2020, la troisième journée annuelle de conférences sur l'art du montage, le samedi 1er février 2020 au TIFF Bell Lightbox, à Toronto.
Cette année, nous sommes ravis d'accueillir la monteuse émérite Susan Shipton, pour une discussion approfondie sur son travail. La journée comprendra aussi des discussions sur le montage de comédies, de longs-métrages et d'émissions de télé-réalité, en présence de quelques uns de nos meilleurs monteurs au Canada, qui partageront leurs connaissances et expériences. Le prix du billet inclut un déjeuner de bienvenue, un dîner, une séance de réseautage suivant les discussions, ainsi que des tirages au sort et des cadeaux offerts par nos commanditaires. Les billets sont disponibles à l'avance pour les membres du CCE à partir du 28 novembre, tandis que les billets sont offerts au grand public et aux étudiants le 16 décembre.
CLASSE DE MAÎTRE: LES COULISSES DU MONTAGE AVEC SUSAN SHIPTON

Susan Shipton, monteuse maintes fois primée, partagera son inestimable savoir et son expérience glanés à travers une longue carrière dans le monde du cinéma et de la télévision. Susan a plus de 40 longs-métrages à son actif. Elle a signé le montage de huit films d'Atom Egoyan (dont De beaux lendemains/The Sweet Hereafter, nommé aux Oscar) ainsi que de plusieurs séries télévisées reconnues par la critique, dont The Book of Negroes (Aminata), et The Expanse.

DISCUSSION: TOUT EST (PRESQUE) UNE QUESTION DE TIMING

Cette discussion explorera les mécanismes de l'humour: comment faire passer la blague, du scénario à l'écran? De la comédie de situation à la comédie à sketchs, les monteurs de Schitt's Creek, Letterkenny, Baroness Von Sketch Show (et plus encore) exploreront les défis uniques du montage de comédie.

DISCUSSION: PAS DE SCÉNARIO? PAS DE PROBLÈME!

Des heures et des heures de matériel, des délais serrés, et pas de scénario? Pas de problème! Les monteurs d'émissions à succès comme Big Brother, The Amazing Race, Yukon Gold, et In The Making partagent leurs trucs et astuces pour mener le projet à bien. Grâce à des extraits de ces émissions reconnues, cette discussion décortiquera le processus du montage en télé-réalité, aussi bien au niveau créatif que technique.

DISCUSSION: LES FILMS DE L'ANNÉE

Il n'y a pas de formule pour qu'un film soit populaire dans les festivals, mais les trois monteurs derrière les récents films Freaks, Mouthpiece, et Genèse, tous salués par la critique, partageront leur processus, leurs trajectoires professionnelles, et de ce que le futur leur réserve.
Nous remercions nos commanditaires:

8:00am - Registration Begins (Breakfast provided in the lounge on the 2nd floor)
9:15am - Enter Cinema 4 (3rd Floor)
9:30am - Welcome & Acknowledgement
9:40am - Panel 1: No Script? No Problem!
11:05am - 15 minute break
11:20am - Panel 2: This Year in Dramatic Film
12:50pm - Lunch
2:20pm - Panel 3: Timing is (Almost) Everything
3:45pm - 15 minute break
4:00pm - Panel 4: Masterclass Behind the Cut with Susan Shipton
6:00pm - After Party at Luma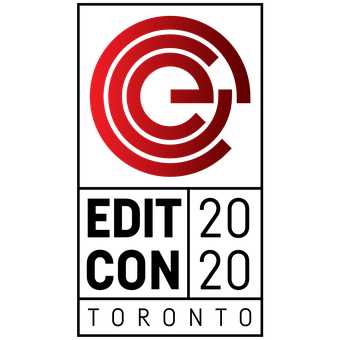 TIFF Bell Lightbox - 350 King St W, Toronto, ON M5V 3X5