Episode 032: No Script? No Problem!
This episode is sponsored by Blackmagic Design
This episode is part 1 or a 4 part series covering EditCon 2020 that took place on Saturday February 1st, 2020 at the TIFF Bell Lightbox in Toronto.
Massive hours of footage, tight deadlines, and no script? No problem! Elianna Borsa, Jenypher Fisher, CCE, Baun Mah and Ian Sit from hit the shows Big Brother, The Amazing Race, Yukon Gold, and In The Making share how they get to the finish line. Featuring clips from these and other top-rated and award-winning reality and factual programs, this discussion breaks down the process of cutting unscripted programming, both creatively and technically.
This panel was moderated by Jonathan Dowler.
If you would like a transcript of this episode it can be downloaded here.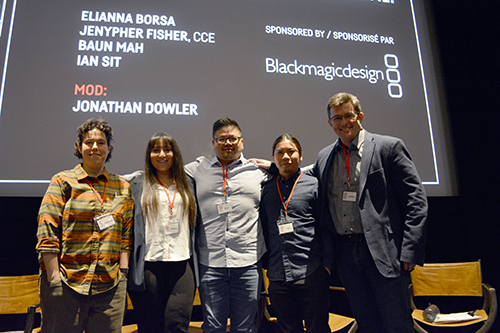 What do you want to hear on The Editors Cut! Please send along any topics you would like us to cover or editors you would love to hear from! You can reach us at  podcast@cceditors.ca.
A special thanks goes Jane MacRea, Maureen Grant, Blackmagic Design and the CCE board for helping create EditCon 2020.
Hosted, Produced and Edited by Sarah Taylor
Mixed and Mastered by Tony Bao
Original Music by Chad Blain