Episode 028: Moving from Assisting to Editing
This episode is sponsored by Finalé a Picture Shop Company
This episode is the the panel Moving from Assisting to Editing that was recorded on October 16th 2019 at Finalé in Vancouver. The assistant editor is the foundation that holds the edit suite together, and is to the editor what Robin is to Batman. But you may not want to be Robin forever.  How does one make the move from assisting to editing? How does Robin become the Batman? Have a listen to this informal Q&A session with Vancouver editors Justin Li and Greg Ng. Moderated by director Kaare Andrews. 
Justin Li is a television and film editor based in Vancouver, B.C. His genre of work include drama, horror, comedy and science fiction. Notable projects include the television adaptation of the Douglas Adams novels, "Dirk Gently's Holistic Detective Agency", CBC's limited series "Unspeakable", and historical horror anthology series "The Terror: INFAMY". Justin enjoys long walks, standing desks and ergonomic mice.
Greg Ng is a film and television editor from Vancouver, B.C., and though he doesn't like being pigeonholed into one particular label as a multi-faceted human, he feels comfortable identifying as such for tax purposes. He is an alumnus of the UBC Film Program and the Canadian Film Centre, and has worked on documentaries, fiction films, and everything in between. In addition to these facts, he has won several awards for editing, which validated his professional insecurities and made him feel warm and fuzzy inside. 
Some recent credits include the VIFF 2018 People's Choice winner, Finding Big Country, Viceland's The Wrestlers, and Epix's rock doc series Punk.
If you would like to see the transcript for this episode it's here for downloading.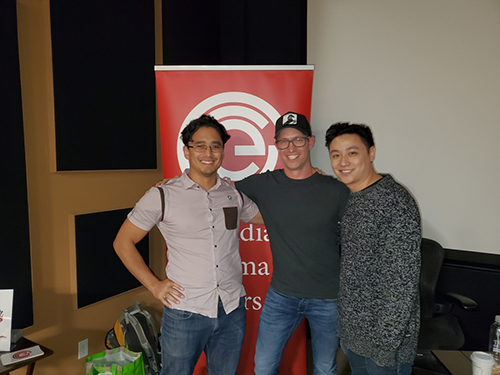 What do you want to hear on The Editors Cut! Please send along any topics you would like us to cover or editors you would love to hear from! You can reach us at  podcast@cceditors.ca.
The 19th annual DOXA Documentary Film Festival returns June 18th to 26th — online! Committed to cultivating curiosity and critical thought, DOXA will present both short and feature films from across Canada and the globe, representing some of the best in documentary cinema. The online festival will include live and pre-recorded conversations with filmmakers, as well as industry-specific events. More announcements, including programming, to come! Visit doxafestival.ca for details and further updates.
A special thanks goes Jane MacRae, Sabrina Pitre,  and Finalé
Hosted, Produced and Edited by Sarah Taylor
Recorded by  Mychaylo Prystup
Mixed and Mastered by Tony Bao
Original Music by Chad Blain