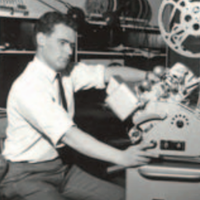 Ralph Brunjes, CCE, started his career at the CBC in the 60s, coming up through the ranks as an assistant editor, sound editor and film editor on groundbreaking dramas and documentaries such as Wojeck, The Whiteoaks of Jalna, The Nature of Things and This Land of Ours. He was promoted to Editor in Charge at age 27 and a year later to Assistant
Supervising Editor in charge of the day to day running of the Film Department. He had the great pleasure of working with Glenn Gould on the soundtrack of the legendary documentary The Idea of North.
In 1975 Ralph went freelance and focused on drama editing, amassing a large list of credits on over 50 television movies, 16 fea- tures, 13 mini-series and multiple TV series.
His commitment to excellence in the craft of editing has earned him multiple nominations and awards over the years, including Best Sound and Best Picture Editing Awards the first year of the Geminis, and an Emmy nomination for Joan of Arc.
Ralph has always valued his role as a mentor to young and emerging talent. Throughout his career he has enjoyed working with many great filmmakers, developing lifelong friendships and creative collaborations.
---