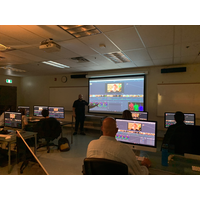 "Aahhhhhhh…..That's pretty cool!" I say as I watch my newly coloured clip playback on loop. I've just finished following some instructions and have applied a mask to part of a clip, I've tracked it to a bowl,and now I've graded some soup to look really appetizing. Succulent even. For the briefest of moments, Davinci Resolve stops being this mysterious enigma and I kinda get it. I understand it. And it feels pretty cool. I then try a few experiments with the footage to see if I get how it works. A few tetris-blocks of info re-align deep in my head and I just find myself nodding. I did that a lot during this workshop.
I live for these moments when a light turns on and you get something you've been trying to figure out for so long just…clicks. You get that feeling that maybe, just maybe, you can do this. That moment lasts for a few precious minutes…Then you spend the next forty five probably swinging between sheer confusion and frustration. I have sometimes wanted to put my fist through the computer. Those moments; not so much. I seem to be getting more of the former now. If you stick with it, more things start clicking. The author Malcolm Gladwell once put forward the theory called "The 10,000-hour rule" that the key to achieving world-class expertise in any skill is to a large extent, a matter of practicing it for about 10,000 hours. Saturday's course was only 8. So you're going to need some patience.
You will also need a great teacher, and luckily Jason Druss, the product specialist who flew up to Toronto to run the course from Philadelphia, is great. He really has the right balance of super knowledgeable-pro, and giddy kid who can't wait to show you how cool his latest toy is. I think you need the kid to keep your interest up and you need the pro to deal with all the questions you throw at them when you are lost in the darkness (or in this case, ungraded clips!) He was great and treated each question and help request with cheerful calm!
The Davinci Resolve workshop this past Saturday attending was perhaps more of an intro that an in-depth course. Sean, the Blackmagic regional rep for Canada hopes to organize more events and go more in-depth if the interest is there. I hope there is because it's a great program that would make the work I do a helluva lot easier. I attended another demo back last year which was only a few hours long but was enough to hook me in on it. This full day event, despite coming at the end of a busy week for me was a great way to unwind and poke around a program I've been meaning to take a look at for a long time. Like my wife says : I'm an edit nerd. I think a lot of the people in the course felt the same.
I'm not a product specialist like Jason or a rep like Sean Manton, the Canadian territory manager who welcomed us to the workshop. If you want all the finer details of this product and have a read on the specs, maybe watch reel or a tutorial about what it does, check it out here: https://www.blackmagicdesign.com/products/davinciresolve/ . If you're reading this article, I guess you've heard of Blackmagic Design and Davinci. You maybe know that some post houses are using it for grading. It tends to have a lot of visibility out there. The smart people at the company are developing and upgrading this system at an incredible rate. They're trying to get the word out because it's not only a color grading system; it's a whole workflow and pipeline for post. Okay – yeah, I hear myself. Let me get this out of the way. I have no skin in this game. I happen to think this program rocks, but let me put that aside for a sec and just give you a (very) rough picture:
Imagine going to an alternate timeline where Final Cut Pro 7 and Final Cut Studio never stopped being developed, and that whole suite (Soundtrack. Color. Compressor. DVD Studio Pro) just kept improving. Developing. And wasn't buggy. And got more horsepower. Then, when a cool, niche, smaller product was developed, it was bought out by Apple and then brilliantly incorporated back into FC Studio? Then, with constant user feedback, the very best elements of cutting, mixing, grading, compositing and delivery from every 'industry' application out there (Avid, Premiere, After Effects, Pro Tools, Cinema 4D) was cherry picked and woven into the fabric of this program and made into a cohesive whole. That's DaVinci. This may sound hyperbolic, but I'm just calling it like I see it. It's a complete suite of tools that look and feel really, really good. Yeah, I do like it. A lot.
Did I mention it's also free? Right now you can go to www.blackmagicdesign.com and get a FREE version that does about 85/90% of what the "full" studio program does. That's insane. If you want to fork out money for the Full Studio Version, that will set you back about 400$CAD. There's 5 large PDFs of their training manuals which are all easy-to-read and are full of exercises that can train you up so you know how to use the program.
I'm a bit more interested in the Color grading suite because grading is a mystical art and I want to learn more about it. But on Saturday Jason took the 11 or so attendees through the edit app, a bit of the sound mixing app, and a bit of the Fusion app. There's a lot to get through, but even on that cursory intro, the timeline tools and layout feels like all the best things about Avid, FCX, and Premiere. It feels sturdy. It's nimble, and man do you feel like you could rocket through an edit. I'd hit keys on a whim and lo and behold: they're the same keys I use for the same purpose in AVID! Or After Effects. Not all of them, but enough so that when I sit down to this thing and really dig in, I feel like I'm standing two rungs up.
That's the program. Highly recommend. I hope that more people adopt it. I can bet that at the free price point a lot of students coming out of college will be throwing themselves into grading. After all, we're all being asked to wear more caps these days. A new tool in the arsenal is always welcome, if not outright asked for.
I'm not saying it would be this way for everyone, but I got my first high-paying gigs cutting through contacts I made while teaching people how to use Final Cut Pro (if you're interested in how that turned out – check out my article here: https://www.cceditors.ca/articles/review-off-the-tracks-a-film-by-bradley-olsen ) I have found many times over in my career that saying "Yes, I can do that" has led to more work opportunities, and expanded my creativity! (Except Final Cut Server. That was a WASTE OF TIME)
If we all had our choice, we'd be like Neo in the Matrix and just ask for a file to be uploaded, wait a few moments, and then we would just know Kung Fu.
But getting better at something just doesn't work that way. It's really daunting facing the long gauntlet of frustrating moments and making mistakes. But if you can just take it that one step at a time, you can possibly make it to those ah-hah moments. And damn if they don't feel good!
And if there's more interest, I'm sure the CCE will co-ordinate something with Sean for Jason to come back up form Philly and run another course (he says he wants to move here, so let's help make that happen!) If you're interested in attending more courses like this, fire an email to the board or Alison at info@ceditors.ca
Jonathan Dowler is an award winning editor, graphic artist and former CCE board member. If you want to learn more about reality TV and how he got into the business, check out episode 12 of The Editor's Cut (Episode 12) If you prefer to just yell at him online, you can find him on twitter @jondowler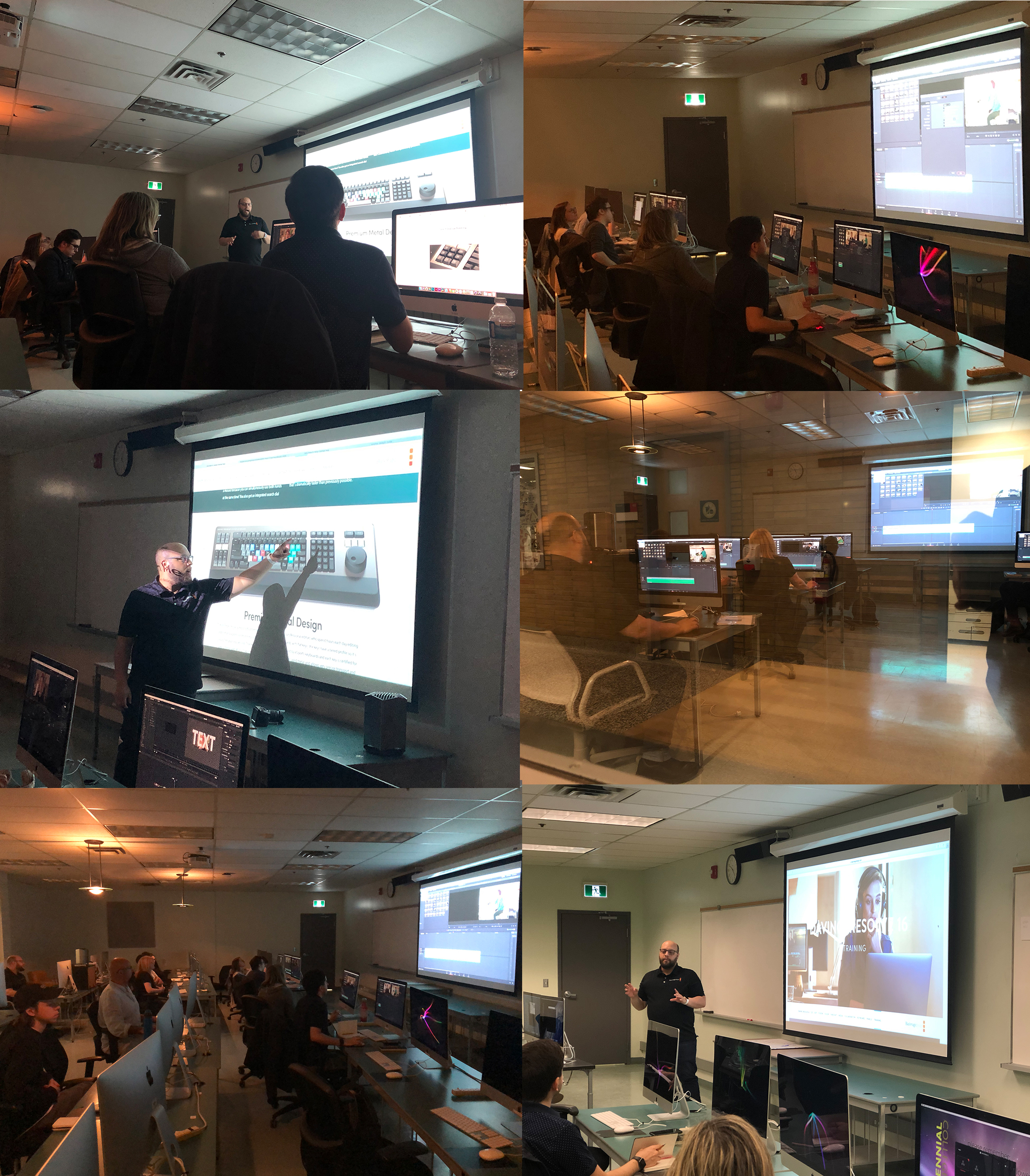 ---