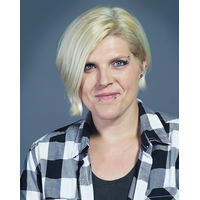 How long have you been an editor?
I've been editing since high school (so about 18 years) doing indies and working as a freelance Preditor, but I didn't really find my footing as a full time cinematic editor until recently. I've been exclusively editing for 3 years now.
What has been the most challenging aspect of editing for you?
If I'm being honest, networking - I love making movies and art and have to consistently remind myself to get out there and socialise. Thankfully if it's with other editors who like talking shop as I do then it comes easy once I'm there, but getting out to events in the first place is a tough sell sometimes when I'd rather be working on something!
What project have you felt the most inspired and excited about?
The most inspiring and exciting one so far has been as Previsualization Editor on Ant-Man and the Wasp, where I got to be on the lot where all the action is and work very closely with many of the key department heads: director, producers, stunts, VFX and final editorial teams. The previs team had a lot of creative input into the movie and we had a lot of fun (though it was definitely grueling work).
If you weren't an editor, what profession do you think you may have taken up and why?
Probably a singer/songwriter - I actually do it for a hobby but I always have figured that if my editing career goes to hell for some reason someday that I'd fall back on that somehow.
If you could sum up editing in 5 words, what would they be?
Story, puzzle, creative, technical, awesome!
---