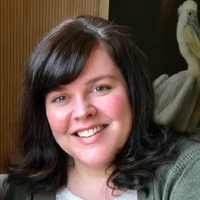 When I begin a project I…. Set up my office with the knick knacks I carry from edit suite to suite in a bankers box. I want to surround myself with familiar things and objects that create a comfortable environment not only for myself but for anyone coming into my room. I have this amazing glowing anatomical heart that I'm kind of known for. It's a great conversation starter. I also carry a stress ball (for obvious reasons), a mini slinky and a great desktop sign from a set sale that reads "Next Window Please". The sign sits under my client monitor. I hope these little things make everyone not only smile but feel a sense of fun and lightness in the room.
When I complete a project I… Thank everyone! From the Assistant Editors to the Showrunner. It's important to make sure everyone knows how grateful you are for their contribution to the work and for the opportunity.
I hide under my desk when… Someone sick comes into my edit suite.
I love the cutting in… Luca Guadagnino's Suspiria. The use of pace and quick cuts was hugely successful in creating tension, suspense and a true sense of discomfort. I found myself with white knuckles at times.
I knew I wanted to work in post when… I attended my first part time film course. As soon as I saw the power of the edit, I was hooked. From that point on I would seek out any opportunity to learn all aspects of editing and get my hands projects to expand my experience.
---