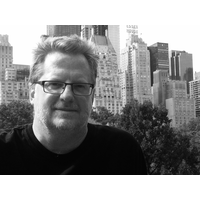 When I begin a project I….Research the director. Watch everything they have ever made. Get a handle on their sensibilities and philosophy. What films do they love? What books do they read? What art do they love? Why are they making this film? Who are they? Only then can you start screening the rushes.
When I complete a project I…Get profoundly depressed. Saying goodbye to a great film and an intense creative relationship is painful.
I hide under my desk when…The director wants a group screening. With questionnaires.
I love the cutting in…GoodFellas, The Limey, American Animals, Welfare, Step Across the Border... there are too many to list.
I knew I wanted to work in post when…I was a teenager: The first time I cut a decent sequence. It was magical. I could make characters dance across space and time. By juxtaposing images, I could create abstract ideas. It was magical.
The CCE has...It has been an important voice for our community; teaching us, enabling us to share and help each other, promoting our craft, and addressing issues important to us all.
---