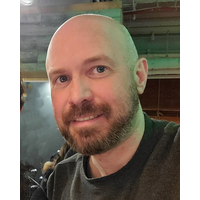 1-Where and when did you first become an editor? Before working professionally as an editor, I was working in the Vancouver animation industry as an animator, an fx artist and a comp artist. When I wasn't working at the day job, i was usually out shooting and editing various fun projects that I would come up with with my friends. The owners of the animation studio I was at had seen quite a few of the short films we were making and when they decided to set up an editing department they offered me the chance to run the department as the lead editor and build a team.
2-What is the best aspect of being an editor in your region? We're lucky to have lots of different productions coming into Vancouver with lots of opportunities to work on some really cool and fun projects.
3-What are you currently working on? I have recently finished editing on the Addams Family feature (out in theaters now), and moved immediately onto another animated feature film (I'm not sure if I'm allowed to officially disclose what I'm working on at the moment, ha!)
4-What has been an interesting/favourite project so far? I was the editor of Sausage Party, and that was a real blast. The talent involved were outstanding, and it was amazing to get the chance to work directly with people I highly respected and whose work I had been a huge fan of for years.
5-The best thing I've learned from another editor is… Make sure the "radio-play" of whatever you're cutting works just as well as the visuals; Listen to what you've cut with your eyes closed and feel the pace of your scene.
6-My advice to any Editor starting out in my city is… Join the CCE of course, and start networking!
*The EditCon raffle was drawn on Sunday December 15th, but we wanted to share the rest of the entries we received (and they were in the draw)
---