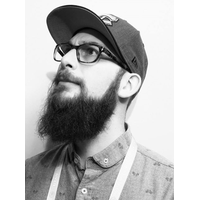 How long have you been an editor for?
I started as a station ID editor for A-Channel in Edmonton in 2003.
Mon premier emploi était en tant que monteur de promotions pour A-Channel à Edmonton en 2003.
What genres have you worked on?
I have done everything from news editing to commercials, passing by documentary and fiction. Lately I've been concentrating my efforts on fiction and have been very lucky with the projects I have worked on.
J'ai déjà été monteur de nouvelles à SRC Edmonton, j'ai également monté quelques séries magazine, des vidéoclips, des pubs en passant par des documentaires et des projets de fiction. Dernièrement, je me concentre sur des projets de fiction et je me trouve assez chanceux d'avoir travaillé sur des séries aussi stimulant.
What has been an interesting/favourite project so far?
Big little lies was the most interesting project as it was the first time I worked so closely with a group of editors under a director who also understood how powerful the craft of editing can be. It was liberating and challenging and inspiring all at the same time.
À date, Big Little Lies était le projet le plus intense et intéressant de ma vie. C'était la première fois que je travaille de manière aussi étroite avec autant de monteurs dirigés par un réalisateur qui comprenait également à quel point l'art du montage peut être puissant. C'était à la fois libérateur, stimulant et inspirant.
What are you currently working on?
I am working on the second season of a wonderful comedy-drama in Quebec called "M'entends-tu". The cast, the writing and the directing is amazing and I'm very happy to be a part of the team.
Je travaille sur la deuxième saison de la merveilleuse comédie dramatique québécoise intitulée « M'entends-tu ? ». La distribution des comédien.ne.s, l'écriture et la réalisation sont extraordinaires et je suis très heureux de faire partie de l'équipe.
Why did you decide to become an editor?
I'm a huge nerd. I like computers and being alone with the footage. It was a natural fit for me. Being on set was always too much action. I prefer quiet concentration on the story structure and the infinite details while still looking at the big picture.
En étant un énorme nerd, je suis plus confortable à être seul devant un ordinateur avec les rushes. Il y a trop d'action sur les plateaux. Je préfère me concentrer sur les petits détails et la structure de l'histoire, tout en gardant l'ensemble de l'œuvre en tête.
---