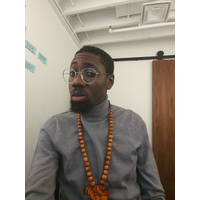 How long have you been an editor?
Professionally, I've been an editor for 5 years, starting off as an Assistant at RTR Media, and then I worked my way through different production companies before landing at Vice Media in 2016 and now I'm currently a Junior Editor.
What has been the most challenging aspect of editing for you?
The most challenging aspect of editing, to me, has been dealing with different personalities (mainly producers) and how to navigate through those personalities to come up with a product that they'll be happy with. It's always a challenge to start a new project and try to come up with a vision for it, where you want to appease the client, but at the same time, not feel like you have to compromise your ability to make great work.
What project have you felt the most inspired and excited about?
The project that I felt the most inspiration and excitement for was Guantanamo's Child, which was the documentary about Omar Khadr that I was brought in as an emergency assistant editor for, back in 2015. The reason why I was excited about it was because it was the biggest thing that I had worked on at that point, and given the nature of the content, it was also the most important project I'd work on to date. I was able to work with an Editor (Cathy Gulkin), Director (Patrick Reed) and Journalist (Michelle Sheppard), who all happened to be award winning, for a company (White Pine Pictures) that also saw success with their catalogue of documentaries they'd produced. It was inspiring for me to have that Director-Editor collaboration for the first time in a high stress, fast turnaround environment, because it was the most pivotal piece of the film that had to get cut. Being a go-to for when the main editor wasn't around, the trust that I had earned with people more experienced than me, was fulfilling in a sense that I felt like I belonged in the industry, because I had the chops to handle it.
If you weren't an editor, what profession do you think you may have taken up and why?
If I wasn't an editor, I still would have seen myself in a profession that was media related. Reason being is that I have an outgoing personality, and my interests in people and the arts, while also enjoying being a conversationalist, would put me in a position where either being an on-air personality for TV or Radio would be a perfect fit for me.
If you could sum up editing in 5 words, what would they be?
Editing in 5 words: Respect the jigsaw puzzle solvers.
---