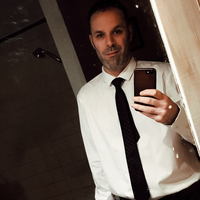 How long have you been an editor? I started as an Assistant Editor in 1994 on a TV series shot in my hometown St. John's, Newfoundland and Labrador called The Gullage's. Moved to England in 1995 and started working as an editor with a film marketing company cutting trailers.
What has been the most challenging aspect of editing for you? For me the most challenging aspect of editing is the relationship between Director and Editor. It took me a long time to figure out how to navigate the edit. When and when not to push your own ideas forward. It's always a bit of a dance. Luckily I've worked with some great directors who've made it easy for me.
What project have you felt the most inspired and excited about? It's always the next project for me. I've loved everything I've worked on but always itching to start something new. I'm about to start cutting a documentary about artist Christopher Pratt. I've worked with the director before and we have a great relationship in the suite. Lots of trust between us.
If you weren't an editor what profession do you think you may have taken up and why? Dance has always been something I've been interested in. Still am to this day. I'm very happy where I am now but every once in a while, I wonder what could have been.
If you could sum up editing in 5 words, what would they be? An affinity to the subject.
---