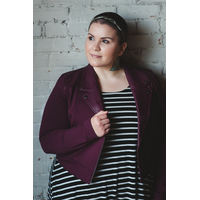 How long have you been an editor?
I've been editing for about seven years all in, but have been doing so as a professional for three.
What has been the most challenging aspect of editing for you?
I think the biggest challenge for me is that because I'm a filmmaker (I write, direct, and shoot, though I don't always wear all of those hats on every project), I often have the entire finished, edited project in my head right from the start, and sometimes I have a hard time taking a step back and breaking that down into all of the steps I have to take to get my project to that place. I get too excited and impatient and sometimes feel overwhelmed! But in the end, it's always so incredibly rewarding to see a story come together.
What project have you felt the most inspired and excited about?
Oh my gosh, how do you pick one? Working as assistant editor on a couple of documentaries with Brandy Yanchyk (under editor Sarah Taylor) was incredibly interesting because I got to learn so much and see parts of Canada I've never seen in person. Working on documentary is such a unique experience in that sense - I love learning new things, and as an editor, you get to learn even more than the audience because you get to see every second of footage!
I'm currently editing a short film that I wrote, directed, and shot, based on a short story I wrote a decade ago. It's a story that, although not at all autobiographical, has always had a huge part in my heart, and it's sort of equally terrifying and amazing to make it a real thing, if that makes any sense at all...
If you weren't an editor what profession do you think you may have taken up and why?
Well, as I mentioned above, I tend to wear many hats in filmmaking, and I love it that way. I see myself as a storyteller, overall, moreso than I think of myself as a writer first, or an editor first, and so on. Strorytelling has been my greatest passion and my goal in life since I was about six. I love what I do.
If you could sum up editing in 5 words, what would they be?
Wow. Good question. "It's worth the painstaking process" maybe? I absolutely love editing. And sometimes, it's so tedious I feel like I'm losing my mind. But I never stop loving it.
---