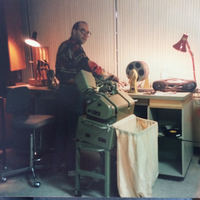 How long have you been an editor for?
Long enough to remember cutting my first feature on a Moviola.
What genres have you worked on?
Comedy, action, drama, animation, horror, family, etc. Almost everything except the one genre I would like to do at least once, the western.
What has been an interesting/favourite project so far?
Once upon a time, I worked on a true story called, 100 Days In The Jungle. It was one of the most enjoyable experiences I've ever had. The show was shot in Costa Rica and I cut in Vancouver. When the director returned for his cut, we re-structured much of the show and worked very hard on performances. It was an ensemble cast with up to 12-15 performers in the jungle sequences. The director, producers and I worked together until lock. It was a wonderful example of complete trust between a director and editor. It went on to win a Gemini for Best TV Movie and a number of awards and nominations for the actors.
What are you currently working on?
In a holding pattern until Frankie Drake Season 2 starts.
Why did you decide to become an editor?
Because it felt like the natural thing to do. I loved the lateral thinking involved in moving pictures and sounds around to evoke an emotional response.
If you could sum up editing in 5 words, what would they be?
Help the audience feel something.
---