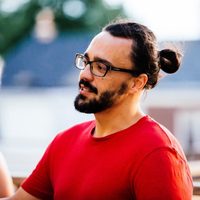 Dino Harambasic - Toronto
How long have you been an editor for?
I've been a student editor since I was 16, and professional since I was 23, my first on-screen credit I received at 25, so almost 12 years.
What genres have you worked on?
TV and feature documentaries, lifestyle series, docu-drama features, news, talk shows, commercials, music videos, and trailers. I have been doing a bit more short form doc lately, also commercials, trailers/promos music videos, and sizzle reel/promo material.
What has been an interesting/favourite project so far?
My most interesting project was working with Oscar winning director Jon Blair on a doc series for Al Jazeera English called The Family. We were covering the rise and fall of former Egyptian president Hosni Mubarak during the ongoing trial in Egypt. It was a constant "hurry up and wait" approach as the events during the ongoing Arab spring were developing, and our edit was changing daily. The learning curve was very high, but sitting next to a seasoned director of this caliber was an experience one doesn't get often.
What are you currently working on?
I'm about to start a visual anthropology documentary related to Bosnia with the award winning Canadian-Bosnian director Igor Drljaca. Other than that, I've been cutting a lot of commercials lately, an experience which I think every editor should try doing. The beats are shorter, the time forces you to be efficient as well as creative in your storytelling abilities approach.
Why did you decide to become an editor?
I became an editor in an effort to master the fundamentals first, as I would also like to direct more in the future. Most student filmmakers aspire toward directing right away, not realizing that they will not get many opportunities to direct. One must master the fundamentals of visual storytelling through understanding scriptwriting, cinematography, editing, sound editing and sounds design, and what better way to master this than by focusing on one of these fundamentals. I couldn't afford celluloid, and I was never big on writing, but editing is something I gravitated toward and ultimately became my passion.
---