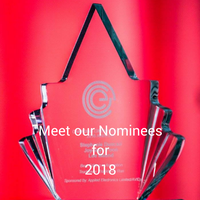 Best Editing in Feature Film
Jane MacRae & Kye Meechan - 22 Chaser
22 Chaser was a truly collaborative project: the producers, the writer, the director, and the editorial team all worked together to shape and perfect the story. As editors of the film, we were welcomed into the creative discussion and even helped craft some additional pickup scenes required for the finished film. It was a great experience to have so much creative input throughout the process.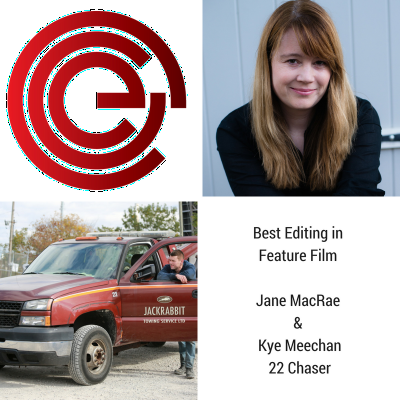 Best Editing in Animation
Pete Watson, CCE, Jon Hutton & Vish Hansa - Napkin Man: Go With The Flow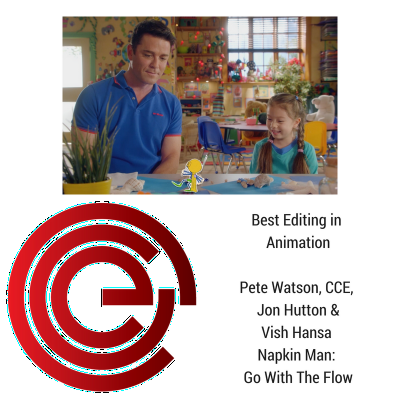 Best Editing in Web Based Series
Ashley Brook, Josef Beeby & Kyle Cucco - Canadiana: The Bizarre History of O'Canada
The Bizarre History of O Canada was one of the most thorough transformations any of us have experienced as editors. Our shooting script was extremely specific and we adhered to it exactly. It got us eighteen nearly unwatchable minutes: after screening the first assembly, we just sat for a minute in horrified silence. Then, we rolled up our sleeves and proceeded to completely dismantle it, all afraid it was beyond saving. The amount of restructuring, cutting and rewriting over the next few weeks meant the finished product bore almost zero resemblance to the shooting script. But to all of our genuine surprise, what came out on the other side were 12 minutes that we were not only proud of, but now serve as the flagship of our series.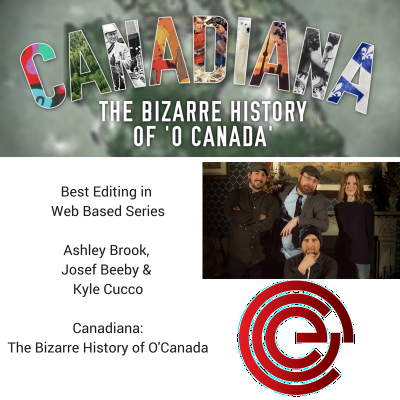 Best Editing in MOW/Mini-Series
Duncan Christie - Mary Kills People: Fatel Flaw
I was really excited to join the Mary Kills People team as I knew it was a quality show with a great team, and I'd always been intrigued by the dark and emotional subject matter. Being able to work with Tassie Cameron again was also a huge bonus, we get along really well on a personal level and she always shows so much respect for ideas I bring to the table in the edit. The season finale was an episode that has very strong performances by the leads, beautiful cinematography and an epic and emotional ending, so i really had all the best elements to work with! It was challenging in that we did some heavy restructuring and there was a lot of Network involvement, but we persevered and in the end we were all so happy with how it turned out. We locked picture 2 days before the Christmas holidays too which was a really satisfying feeling of completion for the year.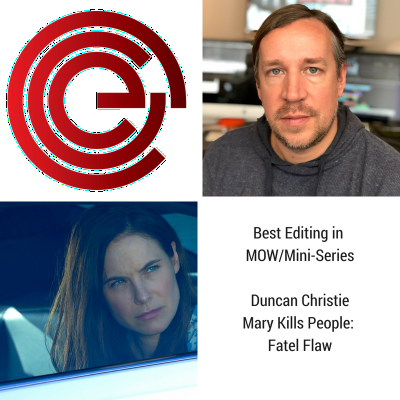 ---