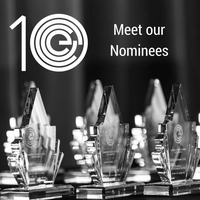 Mark Arcieri - Awaking the Zodiac (Best Editing in a Feature Film)
Other than getting to work with my friend Jonathan Wright (writer/director) was the collaboration from before prep. This film was spear headed by Jonathan, but it was always intended to be a collaboration. Before even going into prep...before we had cast, the look, the feel the style as hammered out. This was true film making at its heart, and you can see that in the final product. I also really enjoyed Taco Tuesdays!!!!
Sabrina Pitre - MECH-X4: Let's Dig Deep (Best Editing in a 1/2 hour Scripted)
Working on this show has been a fantastic experience, and as an Editor, I have grown so much in the span of just one season. The Director and Producers were extremely collaborative. They encouraged me to push the boundaries and try different things to really make this episode something special. It was that open-mindedness, and their trust in my abilities, that allowed me the space to play and have fun with what I do
Robert Kew - Still Standing: Inuvik - (Best Editing in a Lifestyle/Docudrama)
It's an honour to have been nominated by the CCE. In a series filled with great editing experiences, Inuvik stands out for me as the best. Shot in the darkest days of December, the arctic footage had a wonderful twilight quality. I felt the dark, almost eerie look demanded a different approach from other episodes of Still Standing. The result was a more fluid, almost dreamlike episode that I am very proud of.
Brenda Terning - Vital Bonds (Best Editing in a Documentary Short Form)
It was amazing to have the privilege to be allowed to edit footage of these gracious people at such painful moments in their lives. I spent a lot of time crying in the edit suite as a went through the footage and a little time adapting to watching hours of surgery. A powerful subject with many brave people associated with it.
---