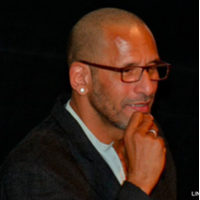 First came the broken dream of becoming a classical ballet dancer. I was 10 years old and I was fixated on classical ballet.
My mother and I agreed that I would go to the National Ballet School auditions; for weeks I rolled my feet on a wine bottle in search of the perfect arches.
Audition day arrives and my mother and I were getting ready to travel to Havana... my grandmother asked my mother, "Where are you going?" My mother answered, "el niño wants to be a dancer and we are going to audition at the National Ballet School"
Long silence.
Angela, that was my grandma's name, looked at me, slowly scrutinizing my body, my nervousness, my dream...
"A Dancer?..." Angela exclaimed. "A classical ballet dancer?... Have you any idea of the danger you are exposing El Niño to?" she asked my mother...
I was left alone in the living room while Mamá and Abuela argued behind closed doors in my grandma's bedroom... "No and no and no...' " Mamá, don't do that to him..." I heard my mother exclaim.
The door to her bedroom opens. My mother comes out crying and pushes me into our bedroom. "Mi amor", she says... " Tu abuela doesn't approve of you going to Ballet School... you know our situation right now, we are living under her rules... and I have no other place to go with you and your little brother. I cant afford to fight Angela…"
"We have to wait. Maybe another time...You will dance… "
I cried and cried and cried... until my shattered dream got so wet with my tears that it melted into nothingness.
I took refuge in reading poetry. Metaphors were my pills for pain, my tickets to travel, my weapons to fight.
Time passed and I became a young man studying art history at the university of Havana. Throughout all those years I had been a amateur ferocious actor/director and theatre was my way of expressing myself and conversing with the world.
One day my lover, Ivan Arocha, who was an editor at the Cuban Film Institute told me of a brand new class that the Institute was launching in search of new talent to join the world of filmmakers.
I went to audition. I impressed the committee with my poetic approach to storytelling, the moves and mannerisms of my dancing body, the passion of my history and the registers of my delivery. They were infatuated with the possibility that maybe, just maybe, this young, ambitious man - who looked like a dancer — could be one of the new talents that they were looking for.
They welcomed me at the Cuban Film Institute.
You want to be
A director...
A photographer...
A sound designer...
A producer...?
No. Editing was my choice,
Why?
Because it is the intersection of movement, story, heart, poetry, soul, politics, emotions and humanity. Because it is the ultimate scenario where cinematic choreography is born.
The rest is history; and it's still unfolding.
---