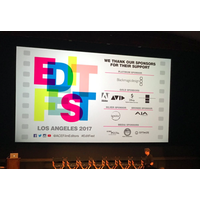 I'm on my way back from Editfest and I'm feeling pretty jazzed. By far this was the coolest prize to have one, and with all fairness to the awesome CCE awards, I think I came out an even bigger winner after this weekend! It feels like a bit of a fever dream and I'm still processing, but all the DGC asked for was what my experience at Editfest was like.
I've never put too much stock in over-analyzing the work I do. And I stopped reading "how-to" edit books a long time ago. But I can't stop devouring interviews with editors and post production journals about specific projects and how they found their final form. I glean more insight from those than you can get from any technical manual. (And you can check out a few of my favourite books on the matter as part of the CCE blog)
There were four panels covered over the course of the day, and it was jam packed. When I woke up that morning at the hotel (awesome place) I was pretty nervous, strangely, so I walked it off over to Disney (a walker in LA must have made me stand out with a massive "TOURIST" sign over my head). After 20 minutes I recognized the rendered walls and dark maroon-ish shades of the DISNEY STUDIOS lot.
After I was waved through the gate I forgot about being nervous and excitement took over. The whole lot is a quiet, art-deco inspired campus. The traditional buildings are still there just as they were back in the 1930, but as I found out later (on an impromptu tour at the end of the day – more on that in a bit) they now house state-of-the-art edit suites, screening rooms and conference areas.
People were already gathering as the California sun was already high enough burn away the cool desert morning (despite not being accustomed to sunlight, non of the editors melted – so that was a good sign!) . As more people rocked up I was soon shaking hands with assistant editors and several college students who were making sure to get their cards out to everyone. I got a nice slap on the back and turned to meet our former co-president and founding member of the CCE Paul Day, who I glommed onto pretty fast! I also ran into CCE- BC members Nicole Rathcliff and Maja – who had also made the flight down from BC for the IATSE report on the event. I think this event was going to be well covered.
I actually didn't meet my fellow CCE winner Andrew directly - Non of us met him or know how to recognize him before we were ushered inside the screening theatre. But after Blackmagic Design made a great – if not rushed presentation- on the new beta of their software they raffled off 4 boxed versions of Resolve – and who was the first winner – Andrew…."From CANADA", which got a laugh from the mostly US audience. I caught up with Andrew at the breaks and had a bit to eat with him @ lunch. He's a great guy and I'm glad we got the chance to meet and catch up.
The first panel I thought would be more about women working in an mostly male work-place- much like the similar-- CCE panel last year. However, this was more traditional, dealing more with how each of the panelists got started, their particularly interesting scenes from their body of work, and a discussion on their approach to their job. Virginia "Ginny' Katz had the best story by declaring she cut into cutting via "Nepotism" (her father was her mentoring editor!) which got a huge laugh.
I loved the format and the panelists were great and the mood was communally light despite screening a harrowing execution scene from Dead Man Walking before 11am ! Terilyn's clip from Love & Basketball was the best clip and she shared the most detail about her craft. Some reshoots were needed to get through the subtest of the players' relationship while they played a pivotal game of one on one.
My two favorite panels really got engaged though they didn't end up being about what they said they'd be about. The Krulik-moderated "Breaking Boundaries" was great – Robert Leighton's cut so many of my favourite movies (least of which was Princess Bride and A Few Good Men" His anecdotes on cutting Spinal Tap and working with Rob Reiner were awesome. He's the one cutter I wish I'd sought out and talked with more one-on-one.
ACE president Stephen Rivkin, ACE – who was also a great host and MC – was also really generous about sharing not just a scene – but a whole breakdown of how Avatar's workflow went. How crazy and on the cutting edge it is (or was in 2009!) and how the performance capture worked with the virtual camera. I am always drawn to a bit of the technical and I would have sat through a lot more as he broke it down for us.
I really wanted to hear more from Paul Rubell as he cut Blade and had some all-too-familiar tales about getting fired for no reason (his first big cutting gig was on - Island of Dr. He shared how his positive attitude when he accidentally received a fax calling for his firing - so impressed the post supervisor that he was not only kept on Moreau as second editor, but was later offered to Blade to cut when the opportunity arose.
I would have liked to have heard more but the pace of these panels kept moving! I suppose you can't complain about pace and brevity at an editor's conference!
During lunch in the Disney commissary I met Jenni McCormick– the ACE wonder organizer came over to chat and I could see the same energy and drive that notice in our own organizer (and my wife) Alison. Man would I love to see these women get together. Organizers assemble!
Bobbie O-Steen's moderated panel with Richard Chew, ACE had a lot of ground to cover and so only brief moments were spent on the "little sci fi independent move" Star Wars that he helped cut. Richard was full of humility, great jokes and was a just a joy to listen to. The scenes he broke down and how he approached cutting them were from Risky Business and the Sean Pean-starrer I am Sam which had the challenged of being nearly all hand-held and hard to cut to. I really have to watch Risky Business again as the way he talked about cutting the "Love on a Real Train" scene was so cool. Oh – and fun fact: Tom Cruise needed only 4 takes to nail the slide in the "Old Time Rock & Roll Scene"
The "Lean Forward Moment" panel towards the end of the day may have sagged were it not for the hilarious energy of Kelly Dixon (an editor on Breaking Bad and Better Call Saul). She was outspoken and hilarious, sharing insights about being mentored by Lynne Willingham and who, in turn, then mentored Chris McCaleb. The "Lean Forward Moments" were good conversation starters, but I was more interested in the system the US has over Canada which trains up editors in the industry. Canada doesn't have the mentor/apprenticeship systems in place the States have, which I have always though as too regimented and rigid, but to hear Kelly talk about the relationship and the education she got with Lynne and then passed on to Chris really got me thinking that initiating a mentor apprenticeship system in Canada (even if on a smaller scale) would see many benefits! I could see myself going through it! (um, to a point! I'm not sure I could return to Assisting!)
The whole theme of the day was sharing and helping one another.. Everyone shared their stories and, as Rivkin pointed out during one of the segues, we have all followed different paths to cutting and doing what we do. There is no "wrong" or "right" way. We all run our own race. In the end – we're all facing that empty timeline in the dark. That something which is easy to forget.
We came out into the gorgeous dusk and were greeted with an awesome spread of food and great conversation. I even met an editor (Zack Arnold) whose blog I'd been following online (and who was the one who sold me on the benefits of a stand-up-desk.
And then Dave, the Disney post facilities' manager took us on a freakin' tour of the Disney post facilities! OMG. So cool! The fact that most were empty and kinda looked much like the I work in back in Toronto was beside the point. This is where James Gunn and Rian Johnson were working not too long ago. And Toronto doesn't have Imperial Storm Troopers keeping watch to make sure we didn't sneak off to get a look at the most recent cut of Last Jedi.
We mingled and ate as the sun set until security politely, but firmly, ushering us out the gates. I caught an Uber back to the hotel, and wished I could have dragged this great weekend on longer- but I had a family already on mid-vacation out east, and had to make my way back.
Editfests are a great way to learn more about the craft. I am really considering heading back next year on my own dime if I can. It's a great time, and I really want to thank the DGC for sponsoring my trip – it was a creatively rejuvenating trip!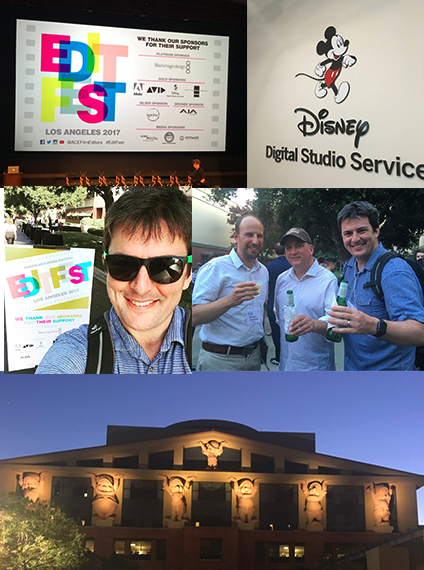 ---