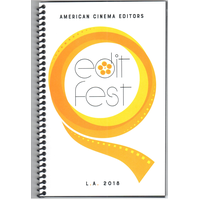 My EditFest 2018 experience began with a message from a friend attending the 2018 Canadian Cinema Editors Awards. Unable to go this year, I had nonetheless bought a ticket for the annual raffle. "Hey. You won a trip to LA!!", from Greg. "That's crazy!" from me. And so, it was on.
The American Cinema Editors' EditFest 2018 took place on Saturday August 25 in Burbank at the Main Theatre on the Walt Disney Studios campus. After flying into Los Angeles on Friday evening, I arrived at the event in time Saturday morning to catch the "warmup act", a presentation from Blackmagic Design on the latest iteration of DaVinci Resolve. I imagine most CCE members are familiar with the constantly evolving colour grading and (more recently) editing software. As much as I like a good tech presentation, I was eager for the panel discussions to get under way, featuring a cross section of editors from the film and television industries.
The celebration of our craft that is EditFest was introduced by Stephen Rivkin, president of the American Cinema Editors. Some members will remember Stephen appearing at a CCE event in Toronto a few years back where he discussed his role as editor of Avatar. Following his EditFest introduction, he handed the stage over to the first panel discussion
Subtitled "Editors discuss their personal experiences and challenges in the cutting room", "Small Screen, Big Picture" was moderated by Margot Nack a strategic business developer for Adobe's pro film & TV market in LA. Editors from different genres, the panelists included Peter Beyt, ACE (multicam sitcom), Jacques Gravett, ACE (TV drama), Tim Porter (Game of Thrones) and Meaghan Wilbur (comedy specials). It must be noted that all the editors have worked in several genres during their careers and were talking about their recent areas of speciality. As the discussion's subtitle suggests, the talk was wide ranging and highlighted the differences and commonalities among the panelists' daily editing work. Mostly free of controversy, I took note of the lighthearted back and forth about the degree of difficulty and challenge each editor felt was typical of their particular projects. "You single camera scripted guys have it easy!." The common theme being how each editor's passion for their career and creative contributions overrides any of the day-to-day challenges that present themselves.
Based on description in the EditFest 2018 agenda, "The Extended Cut" was a session I was seriously looking forward to. In these days of increased focus on workplace mental and physical health, the "How to survive and thrive in editorial" subtitle was a topic tease that promised some enlightenment and perspective. The panel was made up of editors of diverse ages and backgrounds, but a generally common understanding of the environment needed to foster creative and effective editing. Lillian Benson is a thirty veteran, who has edited across many genres and was the first African-American female member of ACE. In addition to currently editing the third season of Chicago Med, Lillian serves on the Board of Directors of ACE. Zack Arnold, in addition to his numerous film and TV credits, founded and runs Optimize Yourself. Optimize Yourself comprises a number of resources designed to offer his fellow post production professionals a roadmap to improved mental and physical health. This effort grew out of Zack's own struggles with job burnout and the resulting issues that arose. Carol Littleton's impressive 40 year career includes collaborations with directors Lawrence Kasdan, Jonathan Demme, Robert Benton among others. Her multiple award winning career and distinguished service with the Editors Guild, ACE and AMPAS, provided her with an excellent vantage point to contribute to this discussion of the desire for the betterment of the working lives of editors. Andrew Seklir rounded out the panel and brought direct attention to the recently published Best Practices Guide for Post-Production. This is a guide book produced by the American Cinema Editors aimed at improving the working lives of it's members. Andrew is a multi award winning and nominated editor. He is also a producer and director. While the Best Practices guide seems on the surface to be a "pie in the sky" wish list, I think it's value for me was simply a reminder of how far we have come as a profession, and more importantly how far we have to go to achieve the respect and consideration of our employers, when it comes to working conditions. Whether cutting corporate videos or big budget motion pictures, as editors we have more in common than we differ in our professional lives. Andrew, the other panelists and moderator Matt Feury (Avid, Director of Product Marketing) all contributed to a lively and enlightening discussion. For me one of the more important messages to come from all participants was, don't be afraid to walk away from a bad situation. Go with your gut and always make your health and well being a priority in service of a long and creatively satisfying career.
After lunch, EditFest continued with Inside The Cutting Room with Bobbie O'Steen. Bobbie is an Emmy nominated editor, writer and film historian and lecturer. Her guest for the one on one conversation on stage was editor Tatiana Riegel. Tatiana was recently nominated for a Best Editing Academy Award for the film I, Tonya. Their conversation covered Tatiana's entry in to the world of film editing through her extensive collaboration with director Craig Gillespie (Lars and the Real Girl and I, Tonya) and other notable producers and directors. As a window into one editor's creative process and relationships, the conversation was both illuminating and entertaining.
The Lean Forward Moment, was the final panel discussion of EditFest and focused on the ACE Internship Program. The panel was moderated by Norman Hollyn, a longtime film, television and music editor. Norman is a Full Professor at USC's School of Cinematic Arts. The panelists were all former ACE interns and working film and television editors. Not surprisingly, they all spoke in support of the intern program and gave personal anecdotes, as well as identifying the films that inspired them to pursue the careers they now enjoy. The panel was comprised of Mark Hartzel (True Blood), Joi McMillon (Moonlight), Shoshanah Tanzer (The Catch) and Julia Wong (X-Men: The Last Stand). An interesting session that highlighted the way in which organizations like ACE and others can give back and inspire the next generation of editors.
To summarize, my EditFest 2018 experience was fantastic. Many thanks to the Canadian Cinema Editors for offering this prize through the awards night raffle. My good luck in the draw led to a wonderful chance to commune with an enthusiastic group of fellow editors. Special thanks to Alison Dowler of the CCE for getting my trip organized and booked.
Richard Millen
Link to Best Practices Guide for Post-Production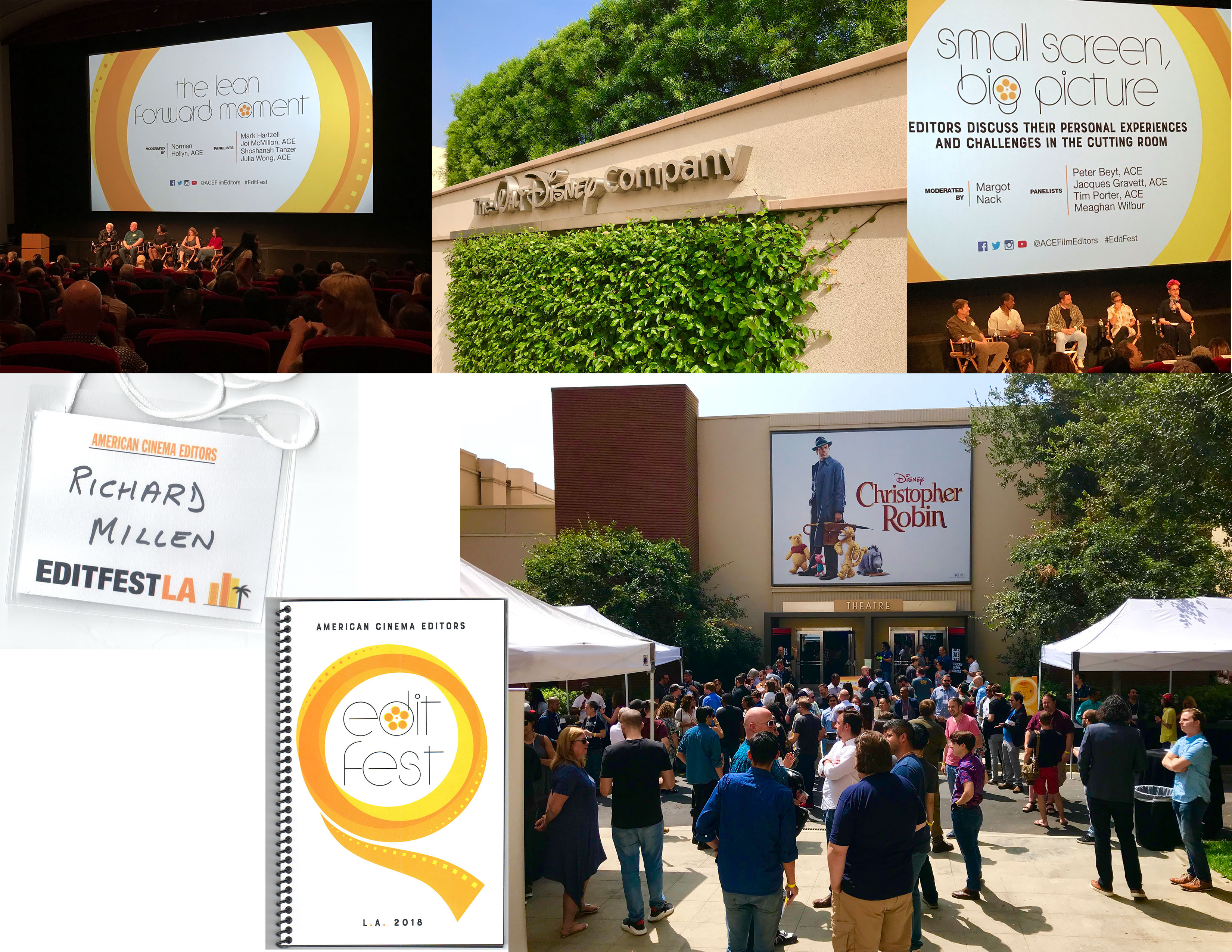 ---