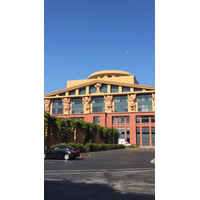 I was stunned and grateful to hear I won this year's CCE EditFest raffle and thrilled for the chance to attend. I have never been to Los Angeles and this seemed like an incredible way to take experience the city.
My EditFest began with a coffee in front of the Disney Studios theatre. While waiting for the theatre to open, standing in front of the art deco era animation building on Dopey Drive, I chatted with a few of the local editors and EditFest attendees and, as I do, bought a raffle ticket.
First up was a presentation from Black Magic Design about the new Resolve version 14. The presenters Thomas and Jacob from Digital Film Tree gave an on-lining demo which included cool new features included the stabilizer's dead pixel fixer and a collaboration feature where shots can be colour corrected while the editor is still editing in whichever NLE software they're using.
Then it was time for their raffle and count my lucky stars, I won! I got a free copy of the full version of Resolve! The host asked my name when I went up and I embarrassingly replied "Andrew…FROM CANADA!" - thus I was referred to as "Andrew From Canada" by EVERYBODY for the rest of the day.
Next up was a panel on "Women in the Cutting Room." Lillian Benson shared a clip from her documentary on Maya Angelou and her explained her technique of using church songs like mantras under scenes of Dr. Angelou describing pain and humiliation growing up. Edie Ichioka shared some memories about coming up as Walter Murch's assistant.
After that, was the session about Editors on ground breaking movies. Stephen Rivkin talked us through his workflow on Avatar and showed footage of his motion capture/performance edit: how he mixes and matches the performances, even inside the same camera "set-up," and how those edits are prepared for "virtual cinematography."
Paul Rubell, the editor of Blade who was also on the panel, followed this presentation with an anecdote about Blade director Stephen Norrington, who asked him: "Why do you want to work on Blade, I'm an asshole. I'm like James Cameron with less talent." Years later, Rubell and Norrington reminisced, "We were the shit for a year and then the Matrix happened."
After hoover-ing some lunch and pestering the Adobe folks a bit about their new collaborative workflow features, we reconvened in the theatre for the legendary Richard Chew, the master editor on Star Wars, the Conversation, Risky Business, Bobby, I Am Sam and more. He shared loads of inside baseball anecdotes from his experience working at American Zoetrope and beyond. He spoke about Marsha Lucas teaching him about cross-cutting between scenes to add momentum to all of them. He gave us his personal mantra: "Never cut for a line, cut for a reaction." When asked about the music from Risky Business, he revealed that the movie was temp-ed with pieces by the composer Steve Reich until his assistant editor was listening to Tangerine Dream on a boom box in the office one day and they decided to hire them to do the score! Mind Blown!
The last panel was "the Lean forward moment:" with Lynne Willingham, Kelley Dixon, and Chris McCaleb – who all worked together on Breaking Bad. They talked about working with each other and their mentorship of each other over the process of Breaking Bad and beyond and then they each shared a clip from a movie that inspired them in their career.
With the panels coming to a close, we headed back out to Dopey Drive for cocktails and snacks before taking the walking tour of Disney Studios. We had to dodge some studios where Star Wars: The Last Jedi and Thor: Ragnarok were shooting but we got to see the recently vacated editing and production office facilities for Guardians of the Galaxy 2.
Infinite thanks to the fine folks at the CCE for this incredible opportunity to fill up my creative reservoir and meld minds with like-minded professional editors on the historical grounds of Disney Studios and good luck with the raffle next year everybody!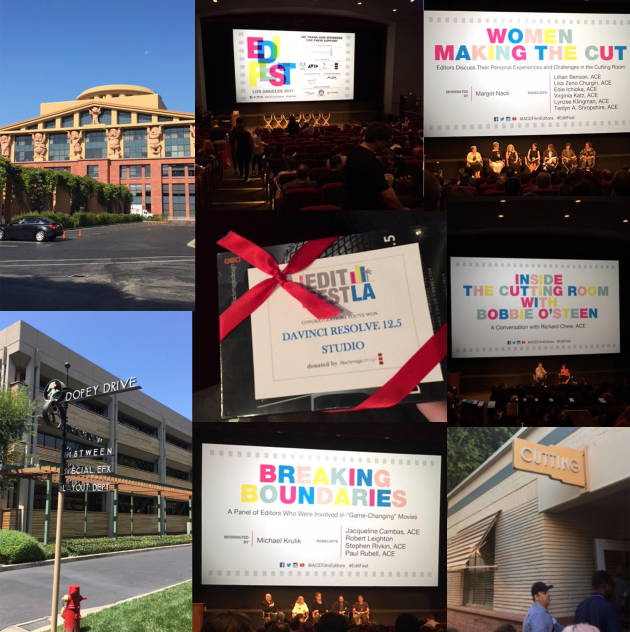 ---