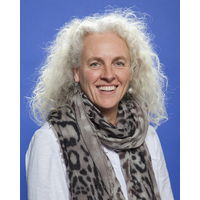 October 2019 :
An Historical moment for Editors of Everywhere
by Annie Jean, CCE

© Kimmo Kohtamäki
Three years ago, after participating in Paris's Editors Film festival Les Monteurs s'affichent, held by the French association Les Monteurs Associés, I came back with a dream.
During the spring of 2016, Quebec editors Myriam Poirier CCE, René Roberge, and I went to Paris to present a film about poet Gaston Miron, and the contact with the French Association created a big spark in our minds: It would be so fantastic to connect the various Editors' Associations in the world, and create a kind of "International" (joking around on the theme of the Socialist International... "Editors of all countries, unite"...etc.). We were laughing then, thinking it would be great... but also... maybe an unreachable goal.
But a few months ago, I came back to this idea in one of our Montreal's editors meetings... I felt more than ever that it was important to widen our horizon and try to be in contact with editors from abroad. So I began to search for other associations and got in contact, amongst them, with a Brazilian Association from Sāo Paolo.
I also decided to have a Skype around this idea with Mathilde Muyard, member of Les Monteurs associés in France (we had met in 2016). On my laptop screen, I could see Mathilde's face with a delicate smile on it ... She said :"Annie, we are exactly trying to do this with some European Colleagues!" I couldn't believe it.
She immediately connected me with Dietmar Kraus, one of the German Organizers of a new event, The International Film Editors Forum (IFEF), created last year, in Cologne, Germany. In October 2018, for the first time in the history of our craft, 32 editors from 13 countries gathered in the same place to share ideas and... maybe... a common project. After this encounter, they parted with a goal for the coming year : To establish a base for a Federation of Film Editors Associations, and... They decided they would meet again in the fall of 2019...
Last summer, after a long Skype with Dietmar Kraus, I understood that I had no choice : I had to be present to this 2nd International Film Editors Forum!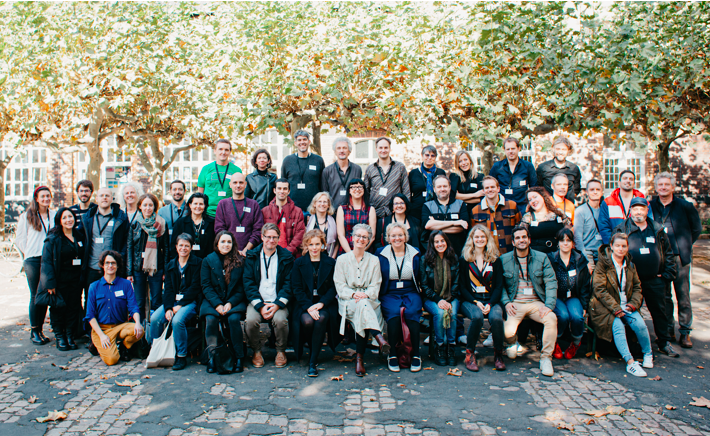 ©Juliane Guder
And I come back from this meeting with great enthusiasm and much hope.
Organized in parallel with the FILMPLUS[1] Festival in Cologne, Germany, the oldest film festival dedicated to the art of editing, the second IFEF was held during the last weekend of October.
This time, we were 40 editors representing associations from 20 countries. The aim of the encounter was to reflect together on the theme of "Communication and Visibility" and learn about what the different associations offer to their membership. We also exchanged about the "Dreams" for the future, and how we can benefit from better communications internatio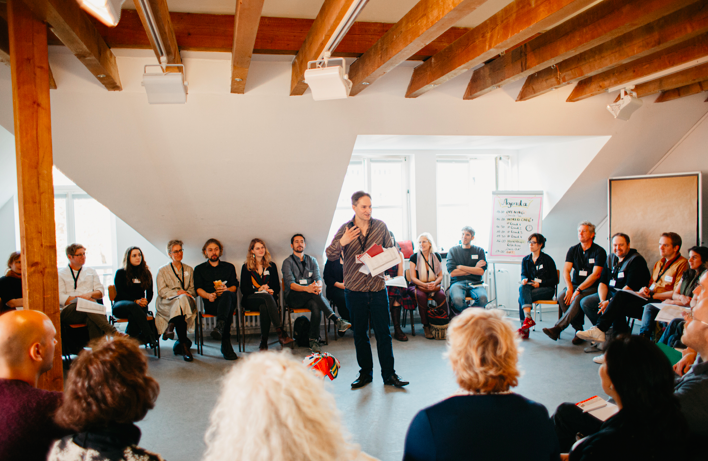 ©Juliane Guder
It's difficult to describe how impressive it was to be there, in a room, with editors from countries as diverse as Turkey, the UK, Germany, Norway, Australia, Italy, Hungary, Spain, Argentina, Finland, France, the USA and others.
I can say the strongest feeling I sensed was one of absolute solidarity and sharing. It was also interesting to feel how editors can form a real community, and to realize how much we can connect so easily, just like if we had known each other for so long... We felt no gap at all. Since our preoccupations, our love for our craft and the desire to promote it are the same, it was very natural to exchange and bring ideas in a completely open way.
Each participant brought up some of the achievements and challenges of his own association. The goal of this brainstorm was to be exposed to new ideas, share the good results and inspire each other. The discussion also gave us an opportunity to talk about the challenges our associations face, and opened a door to eventually compare similar situations. As a member of the Canadian Cinema Editors, I talked about our CCE Awards as a great achievement, our Master classes, the CCE EditCon and I also pointed out our Podcast (many were very curious about it and asked for the link). I also mentioned the challenges the CCE faces, being an association covering a large territory, and a diversity of regions. Most of the countries that were represented at the IFEF, except the USA, are smaller nations with production mostly concentrated in one or two cities. On the other hand, a country like Argentina faces the same kinds of challenges we face here in Canada. I also brought to attention the question of the two languages the CCE must face, a situation very similar to Belgium where they have Flemish and Walloon members as well.
The discussion in small groups was often very animated, each participant giving examples that can resonate with others' experiences. It was not a collection of "exposés" but rather a very lively discussion where each one wanted to add his own experience's examples. The only critic I would make is that we would've needed more time. We were almost sad to come to the end of our exchanges, we had so much to share and to compare. So it was suggested that next year, they plan a longer Forum...
But after all this brainstorming, it became very clear for everybody that a federation of all the associations could reinforce the work that each association already does in its country. In some cases, as in Belgium or Spain, they have just very recently organized their own National Association of Editors and it's important that they'd be inspired by older associations. It also seemed clear to everyone that it's important to encourage editors around the world to create their own association and to fight for a better recognition of the art of editing. But even clearer was the fact that working altogether as a federation we will be much more efficient than fighting separately.
With the globalization of the production, with the fact that editors are more often than ever susceptible to be asked to work in other countries, with partners like Netflix or others that are popping up, the timing and the necessity to unite our efforts seems perfect.
©Fabienne Kyllafrom
Also, as part of the weekend, there was an International Panel, open to the general public, on the global interaction of film editor communities. The panel guests were Oscar nominee Tatiana S. Riegel ACE from the USA, Job ter Burg from the Netherlands, Mercedes Oliveira from Argentina and Alexander Berner from Germany.
This year, the guest country of the Festival for the International Day was the United States, with an evening to celebrate the work of Oscar nominee Tim Squyres ACE. The film The Ice Storm (Ang Lee, 1997) was presented to a large public. The projection was followed by an interesting Q&A with Tim Squyres, about his work with Ang Lee over the years, but also about his work in general and his experience cutting 3D films.
The International Film Editors Forum day ended with a very emotional moment: Representatives of Editors Associations from 12 countries signed the founding document, giving birth to the future Association of Associations : TEMPO. To be honest, I really felt I was witnessing a historical moment for our craft.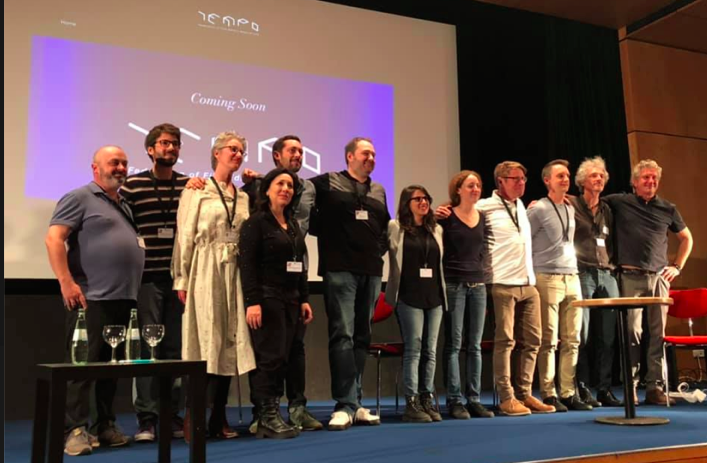 Here are the first 12 countries that have already joined TEMPO on October 27, 2019 : Germany, Netherlands, Belgium, Finland, Norway, Switzerland, Argentina, Austria, Denmark, France and Hungary.
TEMPO will be an umbrella organization whose prime goal will be to federate the many associations of editors in the world. The organization now exists legally, the website is on its way, but obviously much remains to be done. From now on it's collaboration between all the members that will enrich the process. The idea being that, from the 12 founding members, it will grow and extend to many, many associations.
Some of the general goals of TEMPO are: To create a platform for the different editors' associations in the world (and their membership) to connect and share, to be a one-stop pole where editors can find information about other associations and their achievements, to strengthen the standing of our profession in the film industry, to lift public awareness of our profession, to set international standards for working conditions, to benefit from each other's experiences on running our organizations, to inspire each other to support and educate our members on creative, social and legal matters.
Annie Jean CCE
October 31, 2019
---
[1] The Festival will change its name next year and will becone "EDIMOTION – Festival for the Art of Film Editing."
Octobre 2019 :
Un moment historique pour les monteurs de partout
par Annie Jean, CCE

© Kimmo Kohtamäki
Il y a trois ans, après avoir participé, à Paris, au festival Les Monteurs s'affichent, organisé par l'association française Les Monteurs associés, je suis revenue au pays avec un rêve en tête.
Au printemps 2016, nous étions trois monteurs québécois, Myriam Poirier CCE, René Roberge, et moi-même, à présenter là-bas un film sur le poète Gaston Miron. Le contact avec Les Monteurs associés nous avait énormément inspirés. Nous nous sommes dit, tout en blaguant un peu : il serait fantastique de mettre en contact entre elles les différentes associations de monteurs dans le monde et de créer une sorte d'Internationale des monteurs... Avec humour, nous déclinions cette idée : "Monteurs de tous les pays, unissons-nous!"... Évidemment, nous nous amusions, tout en nous disant que ça serait merveilleux... mais aussi... probablement utopique.
Mais il y a quelques mois, je suis revenue avec cette idée lors d'une de nos réunions de monteurs, à Montréal... Je sentais plus que jamais la nécessité d'élargir nos horizons et d'être en contact avec des monteurs d'ailleurs dans le monde. J'ai fait quelques recherches et j'ai communiqué, entre autres, avec une association brésilienne de monteurs, basée à Sāo Paolo.
J'ai également joint par Skype la monteuse française Mathilde Muyard que nous avions rencontrée en 2016 à Paris. Je voulais avoir son avis sur la question. Sur l'écran de mon ordinateur, j'ai vu un petit sourire pointer sur son visage, à mesure que je lui exposais mes réflexions. C'est alors qu'elle m'a dit : " C'est drôle, Annie, parce que nous sommes exactement en train de bâtir quelque chose comme ça avec des collègues européens!" Je n'arrivais pas à le croire!
Elle m'a donc immédiatement mise en contact avec Dietmar Kraus, un des principaux organisateurs d'un tout jeune évènement, créé l'an dernier à Cologne, en Allemagne : The International Film Editors Forum (IFEF). En octobre 2018, pour la première fois dans l'histoire de notre métier, 32 monteurs en provenance de 13 pays différents s'étaient réunis dans un même lieu afin de discuter ensemble, et de partager... peut-être... un projet commun. À l'issue de cette rencontre, ils se sont donné un objectif clair pour l'année suivante : établir les bases d'une Fédération des associations de monteurs. Ils ont également convenu qu'ils se réuniraient à nouveau un an plus tard, à l'automne 2019.
Dans le courant de l'été dernier, après avoir longuement parlé sur Skype avec Dietmar Kraus, j'ai réalisé qu'il me fallait être présente à ce deuxième International Film Editors Forum (IFEF)!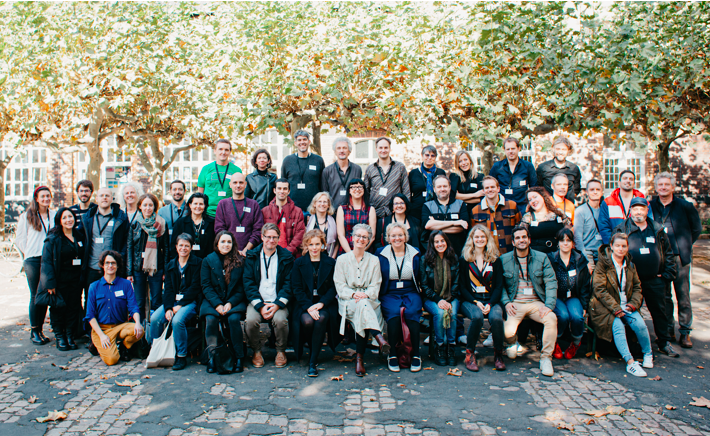 ©Juliane Guder
Organisé en parallèle au Festival FILMPLUS[1] de Cologne, le plus ancien festival de films entièrement dédié à l'art du montage, le second IFEF s'est tenu durant le dernier weekend d'octobre.
Nous étions pas moins de 40 monteurs provenant de 20 pays différents réunis pour toute une fin de semaine. Le but de cette rencontre était de réfléchir ensemble, non seulement sur nos outils de communications et sur la mise en valeur de notre métier, mais également de prendre connaissance des modes de fonctionnement des autres associations de monteurs et des services qu'ils offrent à leurs membres. Les discussions nous ont également permis d'aborder la question des espoirs que nous entretenons pour l'avenir, à quel point nous pourrions tirer profit d'un réseau international d'échanges entre monteurs.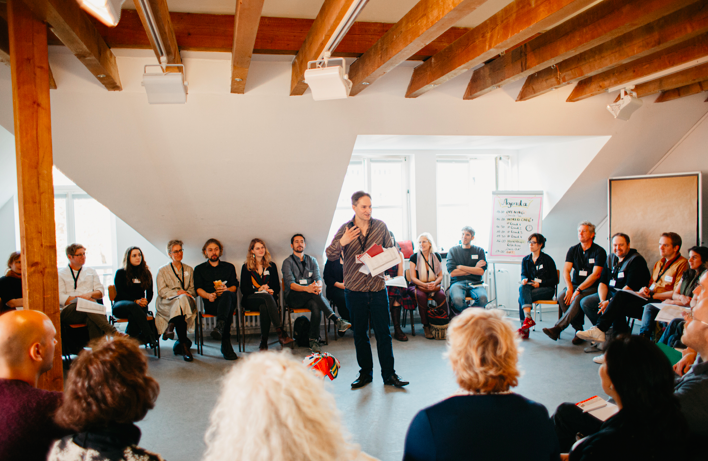 ©Juliane Guder
Comment décrire la forte impression que cela crée, de se retrouver dans une pièce avec 39 autres monteurs provenant de pays aussi différents que la Turquie, l'Angleterre, l'Allemagne, la Norvège, l'Australie, l'Italie, la Hongrie, l'Espagne, l'Argentine, la Finlande, la France, les États-Unis et bien d'autres. Le sentiment le plus marquant en est un de complète solidarité.
Je ressors de ces journées évidemment très inspirée. Mais aussi stupéfaite de constater à quel point les monteurs forment une communauté. Je serais tentée d'ajouter une "communauté d'esprit". En effet, au cours des discussions, il était frappant de voir à quel point nous échangions comme si nous nous connaissions depuis longtemps. Aucun décalage. Puisque nous partageons le même amour de notre métier, le même désir de lui donner une meilleure visibilité, nous nous sommes sentis très libres d'exprimer le plus ouvertement du monde nos idées et nos suggestions.
Chacun des participants a été appelé à partager quelques-unes des réussites et certains des défis que son association rencontre. Le but de ces échanges est avant tout de s'exposer à de nouvelles idées, de donner l'exemple de certaines réalisations fructueuses, et d'être inspirés par les expériences des autres. En tant que membre du Canadian Cinema Editors, j'ai pu, entre autres, donner les exemples des CCE Awards, des Master Class, de l'EditCon et également des Podcasts (ces derniers ont d'ailleurs suscité beaucoup d'intérêt et j'ai pu partager le lien). Mais j'ai également pu aborder brièvement la question des défis auxquels le CCE doit faire face. Je pense notamment au fait que le CCE dessert des membres qui sont répartis sur un très large territoire géographique. La plupart des pays qui étaient représentés au IFEF, à l'exception des États-Unis, sont de dimensions moindres et voient leur production audiovisuelle concentrée dans une ou deux villes. D'un autre côté, un pays comme l'Argentine, avec son immense territoire et des centres de production actifs à divers endroits du pays, fait face à des enjeux comparables aux nôtres. J'ai également porté à l'attention la question des deux langues, qui demeure un enjeu important pour le CCE. Sur ce point, la Belgique partage ce type de défi puisque leur association regroupe des membres aussi bien flamands que wallons.
Les échanges, en petits groupes, ont été très animés, chacun des participants citant des exemples concrets tirés de sa propre expérience, en résonnance avec l'expérience des autres. Ma seule déception : Il nous aurait fallu davantage de temps tellement les discussions étaient intéressantes et tellement nous avions plaisir à comparer nos différentes situations et à partager les idées. Nous avons eu du mal à nous arrêter. Il a donc été suggéré qu'un Forum plus long soit planifié pour l'année prochaine...
À la fin de cette intense session de brainstorming, il est devenu clair pour tous les participants qu'une Fédération des diverses associations pourrait amplifier et renforcer le travail que chacune d'elle effectue déjà dans son propre pays. D'autre part, les monteurs de certains pays, comme la Belgique ou l'Espagne, viennent à peine de se regrouper et l'expérience des plus anciennes associations pourrait les inspirer grandement. Il est aussi apparu important d'encourager les monteurs de partout à créer leur propre association s'ils ne l'ont pas encore fait, et de travailler activement pour une meilleure reconnaissance de notre métier.
Avec la mondialisation de la production, avec le fait que les monteurs seront de plus en plus appelés à travailler dans d'autres pays ou sur des projets internationaux, avec des joueurs comme Netflix et autres qui apparaissent dans le paysage de la production, la nécessité d'unir nos efforts ne fait aucun doute.
©Fabienne Kyllafrom
Nous avons également pu assister, au cours de la fin de semaine, à une Table ronde, ouverte au grand public, sur les interactions entre les diverses communautés de monteurs. Les panellistes invités étaient les monteurs Tatiana S. Riegel ACE (É.-U.), Job ter Burg (Hollande), Mercedes Oliveira (Argentine) et Alexander Berner (Allemagne). De plus, cette année, pour sa journée internationale, le Festival a célébré le travail du monteur américain, sélectionné aux Oscars, Tim Squyres ACE. La projection devant un large public du film The Ice Storm (Ang Lee, 1997) a été suivie d'une intéressante discussion avec Tim Squyres. Son travail avec Ang Lee au fil des ans, mais également son travail en général, ainsi que son expérience du montage de films 3D ont été abordés.
La fin de semaine s'est terminée sur un évènement que je qualifierais d'historique. Un moment qui a été également très touchant : Les représentants d'associations de monteurs de 12 pays ont signé le document fondateur qui a officiellement donné naissance à l'Association des associations : TEMPO.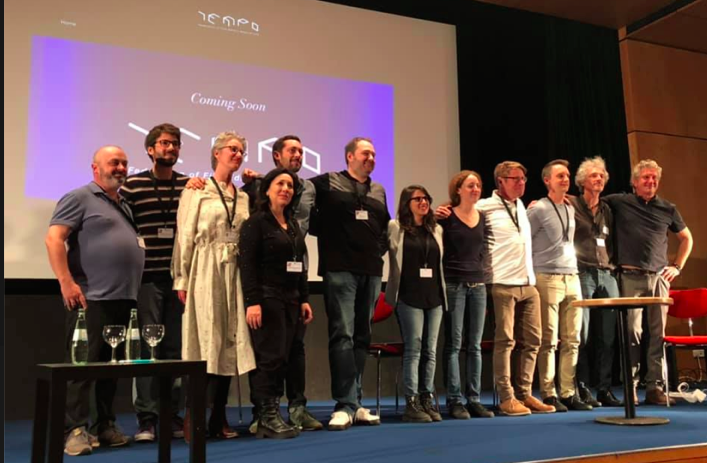 Les 12 premiers pays à se joindre à TEMPO : Allemagne, Hollande, Belgique, Finlande, Norvège, Suisse, Argentine, Autriche, Danemark, France et Hongrie.
Il s'agit d'une organisation "parapluie" dont le premier mandat sera de fédérer les diverses associations de monteurs dans le monde. L'organisme existe donc déjà légalement, mais tout reste à faire. Et c'est par la collaboration entre les futurs membres qu'il s'enrichira. L'idée étant qu'à partir de ce noyau de 12 membres fondateurs, le mouvement s'étende à un grand nombre d'associations de monteurs.
Quelques-uns des principaux objectifs de TEMPO seront de mettre en place une plate-forme commune afin que les différentes associations de monteurs dans le monde (et leurs membres) puissent être en contact et échanger; instaurer une sorte de guichet unique où les monteurs pourront trouver de l'information pertinente sur les autres associations ou syndicats de monteurs, ainsi que sur leurs réalisations concrètes; renforcer la perception de notre métier à l'intérieur de l'industrie cinématographique internationale; élever les standards de nos conditions de travail; profiter de l'expérience des autres en ce qui concerne la gestion de nos associations respectives; être un pôle d'inspiration mutuelle en encourageant et éduquant les membres sur les divers changements auxquels notre métier fait face.
Annie Jean, CCE
31 Octobre 2019
[1] N.B. : Le Festival changera de nom l'année prochaine pour devenir "EDIMOTION – Festival for the Art of Film Editing.
---