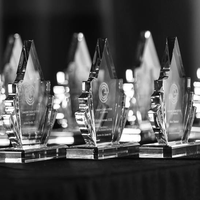 Congratulations to all our nominees for the 2017 Awards.
Best Editing in Animation
Allan Cordero & Mike Goodings - Freaktown: Conquer with Kindness
Kurt Skyers & Paul Gitlin - Dot: Remembering Ogopogo/Scaremaster 2.0
Marc Brenzil - Fangbone: The Pitch of Black/Keepers of Toe
Paul Hunter & Aaron Woodley - Spark
Tom Berger - Paw Patrol: Pups Save a Robosaurus
Best Editing in Documentary- Short Form
Brenda Terning - Vital Bonds
Brenda Terning - The Nature of Things: Wolverine Ghost of the Northern Forest
Geoff Klein - Interrupt This Program 2: Lagos
Greg West, CCE - Building Star Trek
Jason Schneider - Facing: Facing Escobar
Best Editing in Feature Documentary
Andres Landau & Ryan J. Noth - The Stairs
Bill Towgood - Black Watch Snipers
Jim Munro & James Yates - All Governments Lie: Truth, Deception, and the Spirit of I.F. Stone
Nick Hector, CCE - How to Prepare for Prison
Tony Kent - Spirit Unforgettable
Best Editing in Feature Film
Duff Smith - Weirdos
Greg Ng - Come and Find Me
Jane MacRae & Tyler Nelson - Rememory
Kye Meechan - ARQ
Mark Arcieri - Awakening The Zodiac
Best Editing in ½ Hour Scripted
Dev Singh - People of Earth: Significant Other
Jonathan Eagan - Workin' Moms: Bare
Kye Meechan - Kim's Convenience: Gay Discount
Lindsay Allikas - Michael: Every Day: Making a Friend
Sabrina Pitre - MECH-X4: Let's Dig Deep
Best Editing in Lifestyle/Docudrama
Jorge Parra - Still Standing: Maple Creek
Ken Yan - Dead Set On Life: North of Saskatoon
Kristi Macaulay - Wild Things with Dominic Monaghan: The Philippines
Robert Kew - Still Standing: Inuvik
Sarah Taylor - UpRooted: The Oyster Harvest
Best Editing in MOW/Mini-Series
Aren Hansen - Bruno & Boots: This Can't Be Happening at Macdonald Hall
Duncan Christie - The Swap
Lisa Grootenboer, CCE - Mary Kills People: Bloody Mary
Roslyn Kalloo: Mary Kills People: The River Styx
Teresa De Luca, CCE - Cardinal: Part 1
Best Editing in 1 Hour Scripted
Aaron Marshall - Penny Dreadful: A Blade of Grass
Aaron Marshall - Vikings: All His Angels
Allan Lee, CCE - Dirk Gently's Holistic Detective Agency: Horizons
Carina Baccanale - L'imposteur: Episode 10
Jay Prychidny, CCE - Orphan Black: The Scandal of Altruism
Best Editing in Reality/Competition
Allan Hughes, Miles Davern, Dave McMahon Kyle Martin, Colin Kelday, Jordan Wood, Jared Bryer - Masterchef Canada: Finale
Jonathan Dowler, Al Manson, Jordan Wood Ryan Monteith, Baun Mah & Dave McMahon - Big Brother Canada: Finale
Jonathan Dowler, Michael Tersigni, Al Manson Dave McMahon, Ryan Monteith & Cynthia Flengeris - The Amazing Race Canada: Second Place Isn't Good Enough
Michael Tersigni, Ben O'Neil, Jonathan Dowler, Burak Ozgan & Allan Hughes- The Amazing Race Canada: Who's Ready to Let it All Hang Out?
Wesley Finucan - Chopped Canada: Judge or be Judged
Best Editing in Short Film
Ashley Lynch - Summoned
Jamie Alain, CCE - FTL
Jane MacRae - Thresher
Michael Pierro - Imposter
Paul Skinner - Married to Giants: 5 Shorts
Best Editing in Web Based Series
Sam Thomson & Jay Wolting - Save Me: HBD 103
Jonathan Eagan - Cold: 110
Maureen Grant - That's My DJ: 207
Matt Lyon - The Leaf: Blueprint Bouncing Back
Marianna Khoury - True Dating Stories: Jordan Part 2

*If you notice any spelling mistakes, please let us know so that we can correct for our program and trophies - thank you
---